It's time to remember...
The material offered in The Caravan of Remembering is part of the curriculum Daniel Goodenough has developed over the past 30 years. Working through the scales in a gradual way with support has helped thousands of students to develop and hone their skill with their life's mission inquiry. It is through practice and repetition of answering the questions laid out in this course that one can find a deeper truth, inner clarity and authenticity pointing in the direction of greater meaning and sense of why one is here now, at this time, on the planet.
Our aim is to create a space where you feel the deep possibility of remembering your life's mission.
This course is for you if you are willing to set aside some time now, in your life, to open yourself to the answers of why you are here, what you are here to do and who you are here to become, already latent within you.
Course Flow
Each Caravan scale is introduced with the accompanying excerpt from the book. This is followed by an explanatory video of the scale by Daniel Goodenough. Then, the Caravan scale is offered again along with a Caravan Journey to support the practice of reflection. There is also an opportunity to share with the course facilitator reflections on the each scale. Additional scales are offered at the end of each section from Daniel's expanded library.
There are 46 course modules with over 50 reflective videos with Daniel and over 100 life mission scales, including scales he uses in his live classes.
You are welcome to move through the course at your own pace and way, choosing how long you invest with each question and section. If you move through one chapter a week, this is a three month course.
A Taste...
To give you a feel for the reflective videos, the following is a short clip of Daniel speak to a scale that invites people to look at their collections for clues about their life's mission.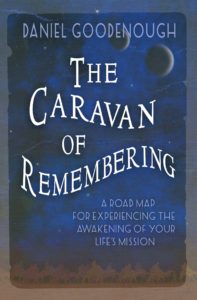 Do I need to have read the book?
This course can serve well as an accompaniment to the book, The Caravan of Remembering, allowing for a step-by-step way of deepening the inquiry that the book offers.
This course is also designed to work well for people who haven't yet read the book and are looking for supportive practices they can do right now, to support them with developing awareness of their life's mission.
Caravan Expedition: Chapter-by-Chapter is available for $247.00 USD.
Our Team
Our  team is available to answer questions and support you along the way. We'll respond to comments in the course and also to your emails. This is a new iteration of our course and we are excited to offer it and learn from you also.

Accompanying Guide Package available for an additional $200 USD

It can be helpful to work through the material with a Caravan Guide. For an additional $200, you'll have access to a Guide throughout the course. For more about the benefits of working with a Guide, visit our Guide Packages page.
Receive 4 30-minute zoom calls with a Guide at 3 chapter intervals, that is at the end of Chapters 3, 6, 9 and 12.
Recordings of calls will be shared with you.
Chapter assignments need to be completed to qualify (a minimum of 2 assignments per chapter).
May be purchased separately at any time while taking the course for $200 USD or with the course for a combined total $447.00 USD.
Click here to purchase the Chapter-by-Chapter course and guide offering for $447.00 USD.
Click here to purchase the Chapter-by-Chapter guide offering separately for $200 USD.
Participant Experiences
This self-study course is a good way to start the deep conversation around life mission. Remembering why we are here and why it matters to ask ourselves this question. Magic happens when we choose to be in this conversation, it impacts our inner and outer life. The course supports us in gaining clarity in where to put our attention when we are seeking answers.
~ S.A.
This course is a sweet invitation and method of inquiry into one's life purpose through a series of exercises and explorations. A balance of listening to Daniel Goodenough read from and expand on parts of his book, Caravan of Remembering, and guided personal reflections, this course lays a foundation for a process of inquiry that is rich, alive and continues to inform moment by moment. I am glad that I can return to the content as this is more like a companion or a map, than a course! The questions Daniel presents, and the way he presents them, light up the seeds of remembering in my deep self and I am excited to regularly water them by visiting Caravan and the life mission scales offered here and in the book.
~ L.M.
A dynamic blend of inner and outer Life Mission journeying, brought the questions more alive and to a deeper responsiveness in my answering. Loved hearing Daniel's voice reading excerpts from his book. I highly recommend taking this class with a friend, and sharing conversation live, or on zoom. These conversations matter! Thank you.
~ G.S.
I looked for my own story in David's story. Like David, I looked at books. I looked at movies I found my vows to invoke higher guides. I found forgetting as I walked thru doorways. I found foundational teachings. There is something else too about never really being alone on a journey.
~J.C.
The course is a surprisingly deep dive into the big questions, 'Why am I here?" "What am I here to do?" and "Who am I here to become?" Questions that burrow into the subterranean layers of one's Being and unearth a remembrance. Once unearthed, I noticed something was awaken that began to inform and influence my daily reality.
The course is deceptively simple, however there is a brilliance that undergirds every module. I found myself exploring my inner sanctum with a calm and confidence curiously, guided by masterful reflective questions. I highly recommend the course. You can not travel through the progressive modules and remain the same. Transformation and transmission occur in a very gentle manor.
~D.K.
There was a way for me to make a difference that was personal and specific to my life mission. When I knew the answer to the particular way I felt called to make a difference, I would have some answers.
~ The Caravan of Remembering, page 147